Create your own bottle shape with Univerre
Imagine, you could create your own bottle. What would it look like? A bottle with your logo as an embossing, the neck of the bottle in the shape of a mountain or a brand new bottle shape, which no one else has? With Univerre you can create the bottle of your dreams. From the idea to the realization, Univerre helps you to create your personalized bottle, according to your wishes. Univerre is the right partner to support you in the design, development and production of your own bottle shape.
Create your own bottle shape with Univerre
Your proprietary bottle design will strengthen your brand identity and enhance the customer experience. Creating your own bottle is an exciting and unique way to elevate your brand and make your product stand out from the competition. When you have a custom-designed bottle, it's more than just a container for your product, it becomes an integral part of your brand identity and can help you establish a stronger connection with your target audience.
A unique design will make your product stand out, and drive the purchase decision of the customer. 
Moreover, designing your own bottle can help to establish brand recognition. When your bottle stands out on store shelves, it's more likely to be noticed by consumers. And when consumers associate your brand with a unique and high-quality bottle, they're more likely to remember and seek out your product in the future.
What you can expect while creating a own bottle shape
When it comes to designing a custom bottle, Univerre uses its years of experience to help you create your own original bottle shape. The company's goal is to offer its customers the best possible service and to develop new ideas through close friendship with its partners and customers. Univerre, one of the leading suppliers in Switzerland, has a team of passionate people who are passionate about glass design.  For almost 40 years we are competent in glass packaging and glass printing. Our goal is to inspire you and design the best product for you. Together, we develop unique, sophisticated projects for our customers with all services and support around glass packaging. We accompany our customers from the initial idea to the finished product.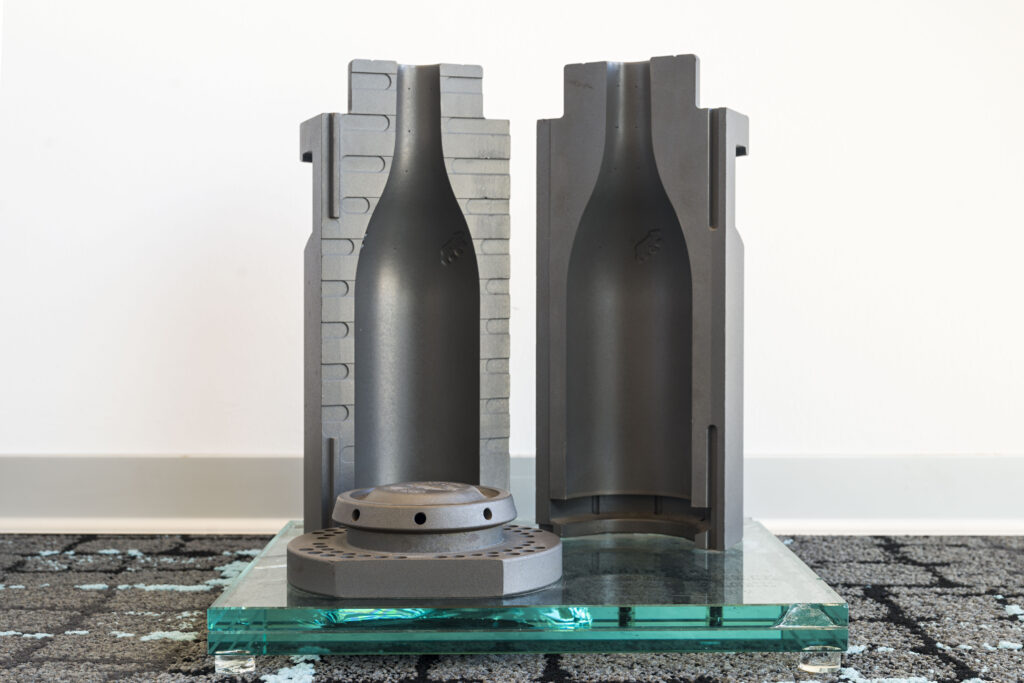 Thanks to our extensive industry experience and network, we are able to find the perfect glass bottle supplier or glass bottle manufacturing. As a glass bottle packaging design specialist, we can design a bottle shape that perfectly matches your brand and product vision. In addition, Univerre offers a range of over 700 different standard glass bottles. This in all segments such as wine, beer, spirits, food, non-alcoholic beverages and cosmetics. Univerre takes care of all logistics and ensures that your glass bottles are transported safely from the production site to our warehouse. When it's time for delivery, we offer efficient and reliable delivery services.
The Univerre Studio
Visit The Univerre User Experience Studio – an exclusive space for you, situated at our headquarters in Sierre. Here, you can experience our entire product range – and design your own product, hands-on. The Univerre Studio is structured in 8 levels, along the development path of your new glass packaging: from sourcing or defining a shape to designing the print and to producing a first prototype.
Create your glass packaging on-site
How to elevate your glass packaging designs?
The magazine Creativ Verpacken* highlights that consumers are drawn to premium products that effectively communicate with them. This is often achieved through luxury goods that feature simple yet high-quality packaging with thoughtful details. The beverage sector exemplifies this trend, where premium products often showcase distinctive elements like separate, top-notch bottles, labels made from carefully selected materials, and outer packaging that effectively conveys the premium nature of the contents. With the rise of exceptional spirits from small distilleries, packaging becomes the primary means of differentiation at first glance.
In the context of glass packaging for beverages in supermarkets, the decision made at the Point of Sale (PoS) becomes crucial. It acts as a vital connection between the brand and the consumers. According to a study mentioned in the Marketing and Communication magazine*, which surveyed over 3,000 shoppers, 82% of purchasing decisions are made at the shelf. This highlights the significant role of the PoS, which differs from selling online as it allows for a lasting physical impression to be made on the consumers.
* creativ verpacken A42311
* Das Magazin für Marketing und Kommunkation 5/2023
More design possibilities
In addition to custom-made glass bottles, you can also buy glass bottles on our online platform that offers a variety of standard bottle sizes and styles. And if you're looking for a special gift or a way to elevate your brand, consider personalized wine bottles  or personalized engraved wine bottles by printing on glass, that can make a lasting impression on your customers.
Moreover, this is the perfect way to create a unique and high-quality bottle that truly reflects your brand and product vision. With custom bottle design, digital printing on glass, screen printing on glass, and other customization options, you can create a packaging that stands out on store shelves and helps establish brand recognition. So why wait? Contact us today to get started on your custom bottle design journey.

Get in Touch with our Team