Rosé is trendier than ever!
Rosé is the ideal wine for sunny days: fresh, light and fruity! For a long time, rosé was considered a second choice wine. But this is no longer the case today. The rosé winemaking of yesteryear has been completely revolutionised and is now more popular than ever!
More and more celebrities are posting photos of themselves with a glass of rosé on social media. When you think about a glass of rosé, you immediately conjure up summer, sunshine, calm and happiness. An increasing number of winemakers are offering high quality rosé to satisfy their customers' requirements.
Pink Design Awards by O-I
In France, Cannes hosts the "Pink Rosé Festival" every year. During the festival, participants have the opportunity to vote for their favourite bottle. These awards show that the majority of consumers prefer the most innovative and extraordinary wine bottles.
The winners of 2019 are the following:
Cuvée Irrésistible – Vignobles Jolivet (Bordeaux – France)
Cuvée Roseline Prestige – Château Sainte Roseline (Provence – France)
Cuvée Grézan – Château Grézan (AOP Faugères – France)
Which rosé wine bottles are the most popular with consumers?
The consumer vote revealed the following facts:
Elegance and minimalism
The Top 10 includes six patterns that are characterised by their minimalist design.
Transparent and without any traditional paper labels, the bottles become a design object and printing surface for every manufacturer. The highly extraordinary shapes are extremely effective.
The choice of relief is also appreciated, with two of the Top 3 bottles being partially engraved.
Total transparency
An emerging trend that is highlighted by the Top 3 bottles is the use of glass stoppers, which help to make the product spectacularly transparent.
Last year's number one rosé, Château Saint-Roseline, was this year's number two, confirming the seductive power of crystal bottles without any labels, which allows the wine to reveal its splendid colour.
Light pink is preferred
The award-winning rosé wine bottles have varying shades of colour, but there is always a preference for light pink.
Erfahren Sie in diesem Video noch mehr zum "Pink Design Award":
Which rosé wine bottle to choose?
Of course, clear glass wine bottles are the best. Many winemakers are opting for new designs or reliefs for their rosé wine bottles, which are completely tailored to the young target audience.
Whether with an eye-catching label, innovative personalisation printed on the bottle, or simply a striking shape.
Satin white bottles are currently particularly popular for rosé wine.
As revealed by the Pink Design Awards, consumers prefer bottles with an unusual structure and shape. These two rosé wine bottles are therefore ideal: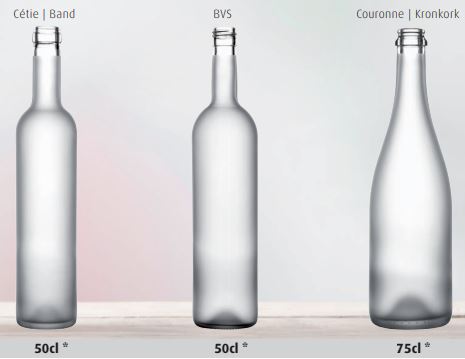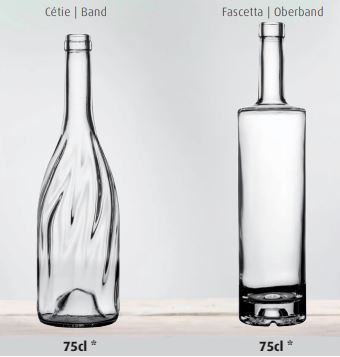 If you prefer a more traditional approach, you may like these wine bottles: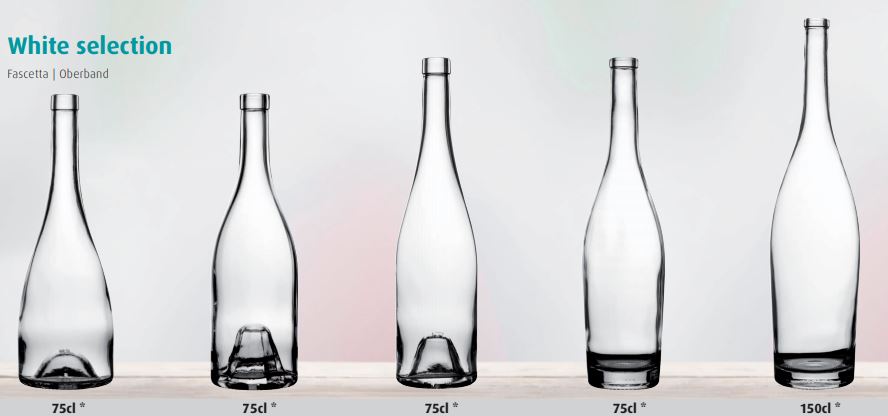 You can find many more wine bottles in our online catalogue:
Rosé wine bottles that meet the current trend
Be creative and give your rosé wine bottles a whole new lease of life. Thanks to Univerre's different printing options, you can make your rosé wine bottle stand out from the crowd.
Univerre offers you various printing techniques for your glass or drinking glass packaging. When we look at purchasing habits, we see that sight, touch and sound play an important role in increasing the sale of your products. With the various printing techniques, Univerre offers you the perfect solution for each product.
360° printing up to 6 colours
Genuine gold, imitation gold or Platinum
Satiny
Relief printing
Thermal printing
Luminescent printing
Contact us for further information.