From the idea to reality – Your own shape of glass
Who has ever had the experience of walking into a bar, ordering a cocktail and, against all the odds, receiving an extraordinary drink that surprises you and floods you with a pleasant sensation?
A drink can be an emotional highlight not only in terms of taste but also visually.
So how can you create your own shape of glass?
At the outset of every project, there is an idea. This idea exists to be realised. What should the glass look like? Does it have to be straight like a traditional glass? Should it have a distinctive shape that reflects the brand or should it have a symbol instead? No matter how crazy these ideas may sound, all of these things are possible! The flexibility of glass knows no limits. Creating your own shape of glass is of particular interest for a special project, whether it is a mass-market product or a high-end product. Anything is possible to enhance your brand! After all, glass is always considered valuable as packaging. Glass is regarded as clean, harmless, natural and, above all, taste-neutral. Therefore the combination of purity and visibility of the contents inspires great confidence among consumers, making glass is perfectly suited for beverages.
Which shape of glass is suitable for my needs?
1. Packaging as advertising
When looking for the right packaging or the right shape of packaging, the first thing to know is that advertising is not limited to the Internet and newspapers. Indeed, the product itself is the best advertisement as it encourages potential buyers to purchase the product at the point of sale. Numerous studies confirm that for the products that are placed in shoppers' trolleys, it is primarily the packaging that encouraged the purchase. That is why each package must make an excellent first impression.
2. Attract attention
First of all, what is not perceived will not be bought; the packaging has to sell the product. This argument also applies to beverages. Imagine you are in a bar and you see the barman preparing a fantastic cocktail in a unique glass and then serving it to another person at your table. You may want to order the same thing for yourself. By the way, the average time it takes for someone to notice a product is only 1.6 seconds! If it has not aroused a person's curiosity within this time, that person will decide to order something else.
3. For whom is the product?
In the packaging industry, the shape of a product is first defined according to whether it is feminine or masculine. Is it a product that is more likely to be intended for men or women? Products that are more likely to be intended for women are decorative, exotic, unusual and rounder. Shapes are more likely to be perceived as masculine if they appear technical, constructed or robust, such as cones or tubular shapes.*
4. The right choice of shape
Of course, an unusual shape helps a product stand out. Still, it is sometimes important to also take practical aspects into account. Restaurants and bars prefer stackable glasses that take up little space and those that fit well in an industrial dishwasher. The shape of a glass can be adapted to brand codes or combined with the shape of an existing bottle. Furthermore, the shape of a glass is also crucial, as it can help enhance the taste of the beverage.
5. The right choice of size
The right size is also important if you want to develop your own shape of glass. Angular shapes, for example, are larger than round shapes. The contents of packages that appear large are also consumed more quickly. The reason for this is that consumers think they have more in their hand than with a round shape.
For its haptics to be convincing, the glass itself can also be personalised with a silkscreen print as an additional touch of refinement. Here too, there are various possibilities:
Sophistication with gold or platinum printing
Sophistication with relief printing
Sophistication with thermal printing
Sophistication with luminescent printing
Sophistication with satiny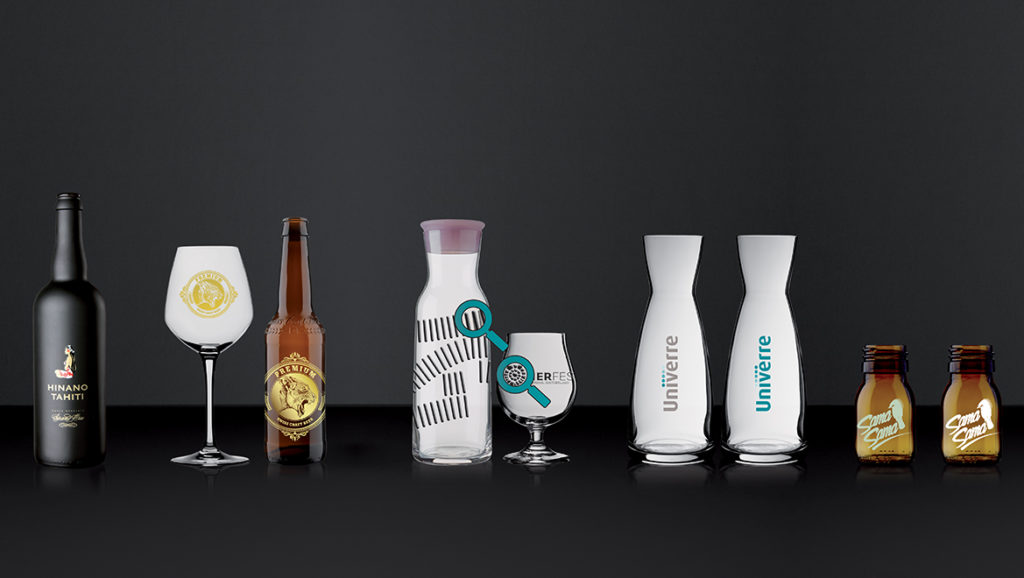 *Quote: Harald Seeger, Praxisbuch Packaging 2009: Wie Verpackungsdesign Produkte verkauft.
Inspiration: The shapes of our customers' glasses
Mamont Vodka
In 1868, Konstantin Platonov and Gregoriy Badyn founded the oldest distillery in Siberia. Even today, the plant is still located in the same place, right on the Itkul river, at the foot of the Altai Mountains. Today, the Itkul distillery is the only distillery in Russia which uses only malted grain for the production of alcohol.
The Mamont Vodka glass
With a development time of six months and production support from Univerre, the shape of the personalised Mamont Vodka glass was born. This vodka glass is available in two different sizes: the small 5 cl version and the larger 10 cl version. Mamont Vodka is a Siberian tribute to the scientific significance of this discovery of the century and, at every level, a symbol of pure adventure. The unique bottle in the shape of a mammoth tusk is as extraordinary as the pure taste of Mamont Vodka. The striking shape of the bottle has been reproduced identically for the corresponding vodka glass. Mamont Vodka is an excellent example of the harmony between brand, packaging and company history.
DIWISA Distillery
DIWISA is a pioneering Swiss company in the development and marketing of traditional and innovative beverage brands for moments of pleasure, joie de vivre and shared celebration. The DIWISA distillery specialises in knowing the lifestyles and needs of tomorrow's consumers with a keen sense of intuition and using its production know-how to develop relevant offers and services.
The 1 Liter DIWISA coffee glass
Univerre supported DIWISA in the creation of a new 1-litre coffee glass. This coffee glass is perfect for enjoying a large cup of coffee. Ideal for use in après-ski bars or a trendy restaurant for Lutz coffee. In any case, this large coffee glass is a real eye-catcher and will surprise many.
An original creation by Univerre
For a long time, Univerre has been searching for the perfect wine glass. Therefore, we decided to create it ourselves. The result is the Robusto line of wine glasses that can also serve as beer glasses. The 55 cl and 37 cl Robusto are characteristically sturdy. Heavier and taller than other wine or beer glasses, this glass fits perfectly in the hand and captivates with its timeless elegance. In the meantime, the Robusto line has become a bestseller in our assortment.
Convince yourself of the robustness of these wine glasses – We have tested them
From the idea to reality – We will be happy to guide you
Do you have the desire to develop your own shape of glass? Then do not hesitate and contact us so that we can turn your idea into reality.
Univerre will support you from the idea to its realisation:
We will discuss your idea together
If desired, we can provide graphic support
We can print initial prototypes with our in-house 3D printer
We will find the right supplier for you
We will ensure delivery directly to you at the desired time
Contact us for further information.