"A personalized beer bottle reinforces customer loyalty."
The Eisbock brewery was founded in 2017 by the two beer sommeliers Adrian Woerz and Roman Zwicky. It was important that the brewery also includes Eisbock* beer in its range. For this reason, the brewery was also named after it.
The beer bottles of the Eisbock brewery have the name Noxx. Nox comes from Latin and means night. "We wanted to address people with a very special beer bottle, because only an unusual beer bottle encourages the consumer to taste a new beer," explains Roman about the brewery's beginnings. "No one was expecting us, which is why it was an important criterion," Adrian adds. The two brewers opted for a black beer bottle and had the idea of printing it with different monsters in different colours.
A big challenge was to get these creatures on beer bottle. "At first, we thought of labels, but they didn't make the monsters look good. Then we considered transparent labels, but it's far too complicated to stick them on" Roman explains. Finally, they decided to print them directly on the beer bottle. "We thought, let's be crazy," Adrian jokes. They did not regret their decision. "It was only then that we realized the many benefits of a personalized beer bottle," says Adrian. Indeed, the two tell that the positive side effects were that, unlike labels, there are no fingerprints on the printing, and that the biggest advantage at a party is that they can leave the beer cooled in a trough and the printing does not rub off. "When it comes to labels, you always have sticky hands when you take a beer out of a trough and you don't even know what you're drinking," Adrian explains.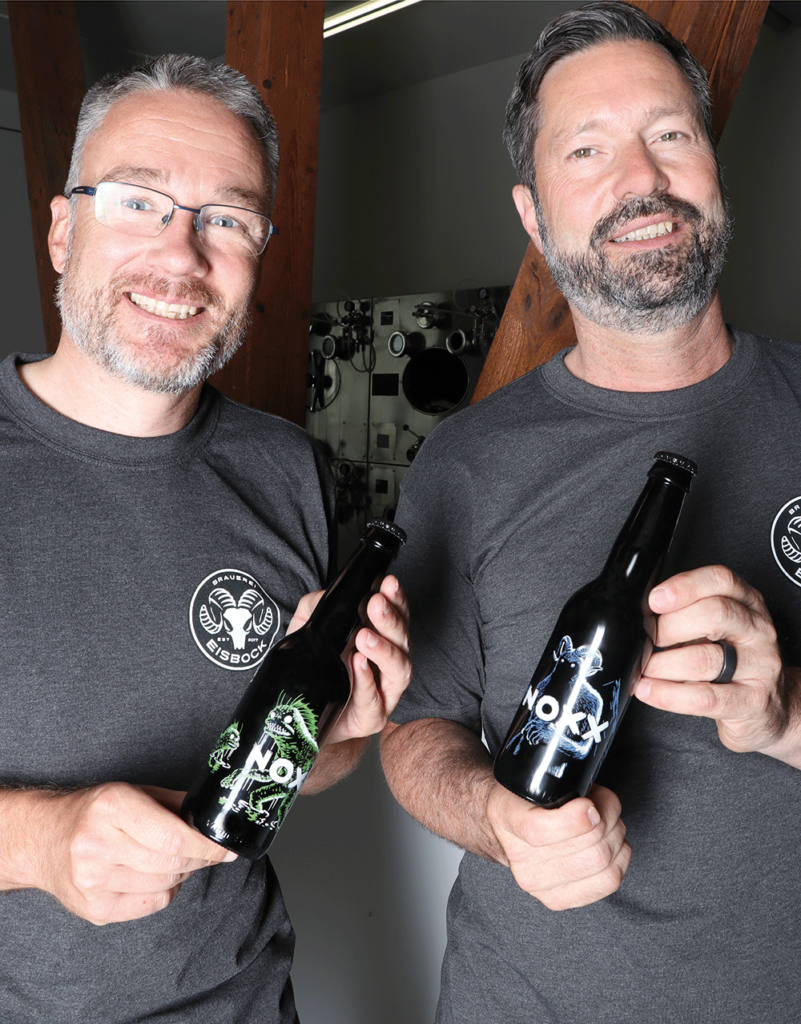 When asked what is probably their biggest surprise about their customers' reaction to their personalized beer bottles, Adrian explains: "Our customers became bottle collectors and therefore very loyal customers. He proudly continues: "The bottles are so special that we have even received requests from foreign collectors." Roman is convinced that the majority of people buy a beer according to its presentation: "If the beer fits visually, then the will to try something new is much more intense" explains Roman and adds "Many customers have discovered us thanks to the strong reputation of our beer bottle".
*The Eisbock Beer
The Eisbock beer is very rare because its production is relatively expensive. For Eisbock, wheat double bock is used as basis. This is then frozen for 3 days and through this process a concentrated juice is created which makes the beer stronger in taste.
This masterpiece has dried fruit notes, a strong, full-bodied sweet taste, similar to that of a liqueur, with a full-bodied and persistent finish.
Excellent as a digestive but also as an accompaniment to savoury desserts and salted cheeses.