Why don't you create a bottle "In Chasselas We Trust"?
Univerre has decided to help you enhance the image of your Chasselas with a range of specially designed motifs on your wine bottle. If you are a Chasselas producer, this article is made for you.

Enhance your bottle with a unique design
Bet on Exclusivity and Incomparability
It is time to give a new breath to Chasselas wine in Switzerland. Let's bring a dynamic, modern and fresh image! Personalisation is the opportunity to go beyond the codes of standard labels and stand out on the market. Invest in your brand and share a strong emotion with your customers.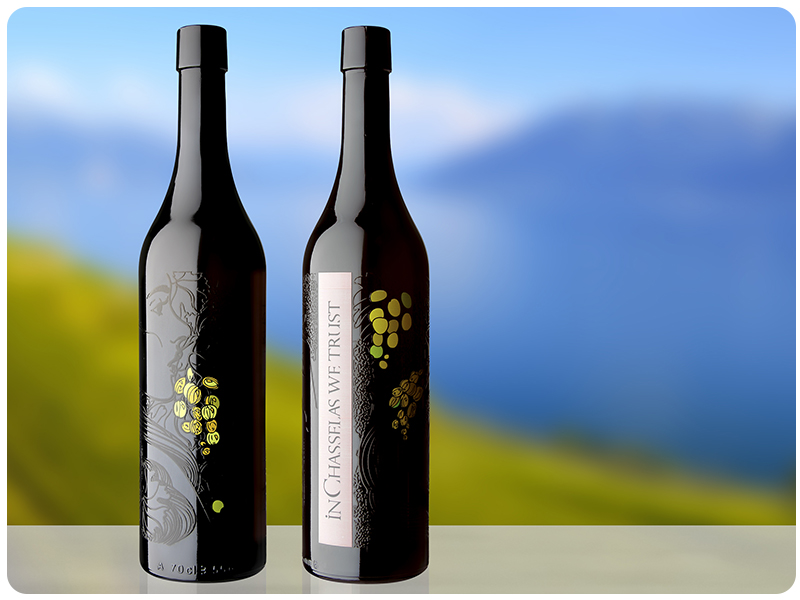 Univerre has designed a line of "In Chasselas We Trust" designs for your wine bottles. The slogan "In Chasselas We Trust" is popular in Switzerland. It contributes perfectly to the image of modernity with its anglicism. Ideal for seducing the younger generation and making Chasselas the trendy, attractive, cool and 100% Swiss wine. 
Discover now about a hundred designs to make you stand out and mark the positioning of your Chasselas.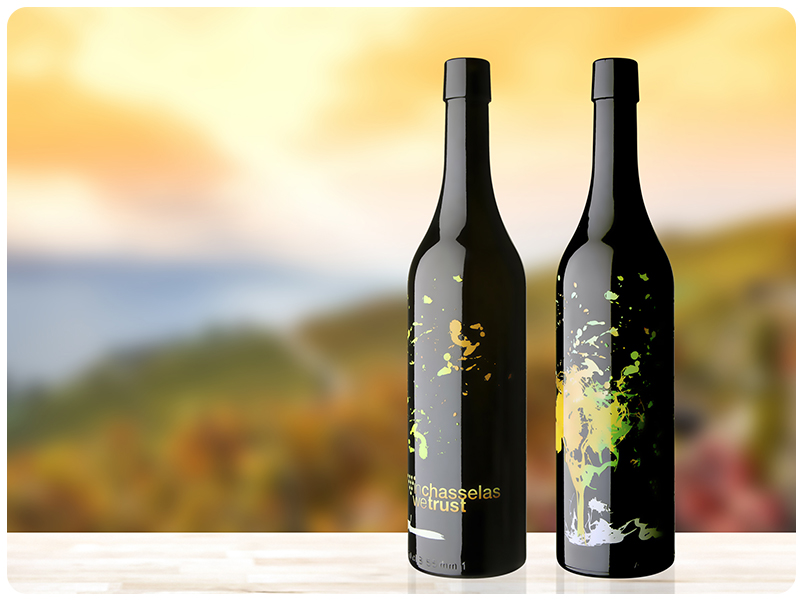 The project to sublimate the Chasselas wine bottle has been made possible thanks to digital printing. Indeed, digital printing offers the possibility of creating projects with innovative and trendy designs. This technology allows you:
a printing on glass of many colours and shapes, photos and logos;
relief printing on glass packaging;
hyper-personalised printing with the individualisation of each bottle;
printing from small series.
Do you like the project? Contact our sales consultants who will be able to guide you in turning your idea into reality.
Why a bottle of Chasselas wine?
Sometimes associated with a thirst-quenching, festive wine with no added value, Chasselas (Fendant in Valais or Gutedel in German) has long been the preferred wine for aperitifs and cheese dishes. This grape variety, designated as one of the most important white grape varieties in Europe, has many facets and plays an active part in Swiss wine identity and culture. With its round, copper-coloured berries, Chasselas offers a marked typicity depending on the region. A taster can find its delicate and refreshing aspect, fruity, floral or slightly sweet.
"The Chasselas was denigrated for years, presented as a wine without virtue and without future. Even professionals slandered it and gave it up." Quote
Since then, several organisations have decided to raise the profile of this grape variety appreciated for its freshness and delicacy. With this enthusiasm, Univerre wishes to have a positive impact on the image of Chasselas wines in Switzerland by contributing to the enhancement of your wine bottles.
Range of wine bottles ideal for Chasselas
Stand out even more with a personalised wine glass
The fruit of your labour is also reflected in a wine glass. Personalise your wine glass and reinforce the sense of belonging to your cellar with the printing of your logo. Indeed, a personalised glass with your company logo will highlight the unique taste of your wine vintage. Here are a few examples to inspire you.
Contact us for further information.