The size is impressive – This is also demonstrated in the world of wine bottles. Magnum bottles and large size wine bottles are a real trend in the wine market.
Discover the new brochure of magnum bottles and large size bottles "The big ones".
What you need to know about the size of a wine bottle
The size of a wine bottle is inspiring. Moreover, a large wine bottle not only looks impressive and noble, but it also has many practical advantages for wine.
Magnums are still the most famous large wine bottles, with the same capacity as two standard wine bottles, or 1.5 litres. The next largest is the double magnum, with the same capacity as four bottles, or 3 litres. The Jeroboam and the Rehoboam follow with 4.5 litres, and finally the Methuselah with 6 litres.
Where do the names of the wine bottles come from?
The names of the large wine bottles come from the kings of the Old Testament. The wine bottles range from 1.5 to 20 litres. Large bottles are almost always much more expensive than small ones. This is because large wine bottles are sometimes collector's pieces, and are also much rarer. In addition, these large wine bottles are more expensive to produce.
The different bottle sizes
Magnum – 1,5 litres

Jeroboam – 3 litres

Rehoboram – 4,5 litres

Methusalem – 6 litres

Salmanazar – 9 litres

Balthazar – 12 litres

Nebukdadnezar – 15 litres

Goliath – 18 litres

Salomon – 20 litres
What is the ideal bottle size?
One rule says that if a wine can mature in a small wine bottle, the maturation process can be accelerated. Wine bottles of less than 0.75 litres are ideal for holding young wines.
However, wine in small bottles should be drunk as soon as possible and should not be left to rest for several days. Indeed, wine matures more quickly in small bottles than in large ones.
Large wine bottles are particularly appreciated by collectors because they allow the wine to age more slowly and therefore in a more qualitative way. The larger a wine bottle is, the smaller the ratio of surface area to content. This leads to the wine oxidising much more slowly.
The magnum bottle contains a very small amount of air compared to the amount of wine. This means that the ratio between the surface area of the wine and the oxygen in the bottle is lower. It is precisely for this reason that wine matures more slowly in large wine bottles.
In addition, large bottles of wine have thicker glass. This means that the influences of light and temperature have less of an effect on the liquid in the bottle. This is why wine connoisseurs often keep magnum bottles.
High quality wines are often stored in magnum bottles. This is not only advantageous because of the lower risk of oxidation. It is also important that temperature and light cannot affect the quality of the contents as quickly due to the thicker glass envelope.
What are the advantages of magnum bottles and large size bottles?
Storage – Magnum bottles are better for storing wine.
Value – A screen printing on your Magnum bottle enhances the value of your product!
Fascination – Magnum bottles are very popular and fascinate the consumer.
Maturation – Slower and more harmonious process.
Present idea – A large size bottle is perfect for a vintage wine, a jubilee or a birthday!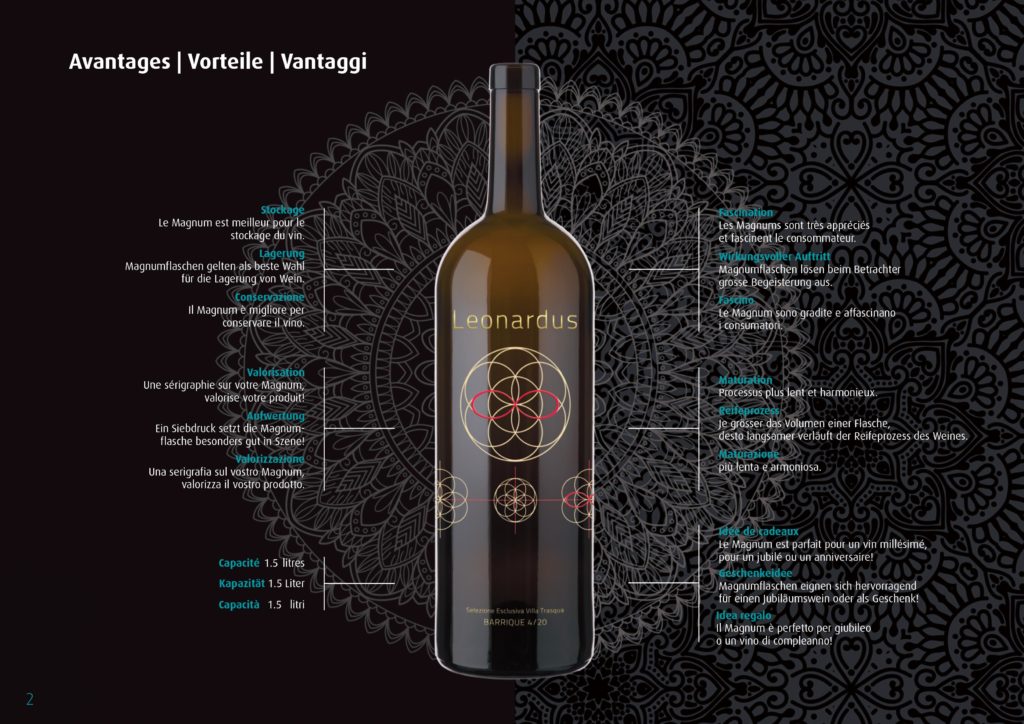 Giant wine bottles are sublime
With oversized bottles, the spectacle is more fascinating than the exceptional quality. These giant wine bottles are not usually sold on the market because they are often presented as gifts, for example at weddings, anniversaries or other special occasions. Moreover, large bottles can be opened just like conventional wine bottles – it just takes a little more patience.
Personalisation and individualisation enhance the customer's desire to buy!
The personalisation of wine bottles is nowadays essential and plays an important role in our society. How can you give a mass product a unique character? Thanks to personalisation, you can create more individuality. Indeed, with a personalised bottle, you can increase the value of a wine or focus on an important event.
Customers appreciate a personalised bottle of wine more because this type of differentiation is understood by customers as a form of attention.
Personalisation is the expression of a special and personal appreciation. A customer feels directly connected to and touched by a personalised object.
What does the personalisation and individualisation of a bottle of wine look like?
There are almost no limits to the design possibilities of a personalised wine bottle. Wine bottles can be individually designed using different types of printing. Here are some examples of current projects:
Do you have any questions? Do not hesitate to contact us.